Why We Restore
ACA Paper Restoration offers restoration services for damaged works on paper. Paper is naturally acidic, which is why older works, such as an old newspaper, turn yellow or brown as they age. The paper's pH must be neutralized in order to halt the toning and keep the paper and pigments from deteriorating. The toning can also be cleaned out of the paper, yielding a newer looking piece.
There are a variety of problems that can originate from poor environmental conditions, framing, handling, or mishaps. Damage such as stains, tears, mold/mildew, abrasions and creases can detract from both your enjoyment of the piece and its value.
In addition to making a piece look nicer, proper professional restoration and conservation can stabilize its value and in some cases, recover some value lost to damage.
The following is a list of issues common to works on paper that would require restoration and/or conservation treatment: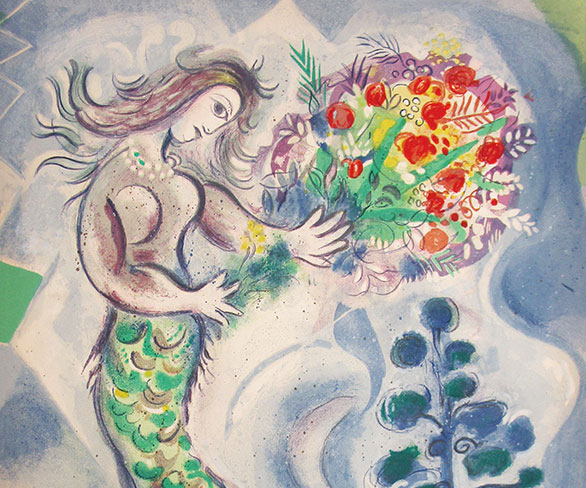 Common Issues to Works on Paper
that Require Restoration and/or Conservation
Acid Burn
Browning/yellowing of the paper, which also makes paper brittle.
Mat Burn
Brown line of acid burn around the image.
Foxing
Corroding particles in paper create unsightly brown spotting.
Acidic backing and/or matting
The acid burns the work on paper if not removed.
Tape and adhesive
Will stain the paper if not removed.
Poor frame conditions
Improperly framed pieces can deteriorate from exposure to acidic materials, touching the glass, insect droppings, mold spores and humidity.
Water Damage
Rippling, mold/mildew and staining can all occur from exposure to moisture.
Mold/Mildew
Mold and mildew cause paper and pigment deterioration, textural damage and staining.
Insect Damage
Silverfish eat away paper and pigment. Droppings can deteriorate and stain the paper.
Creasing
Handling cockles, deep folds, wrinkles, rippling.
Surface dirt
Dust, soot, fingerprints, hair, fur, insect droppings, etc.
Abrasions
Scuffs, shiny marks, scratches with pigment loss, textural damage.
Other Damage
Tears, holes and missing paper.
Other Aging
Pigment loss, cracking and fading.
Have Something in Need of Restoration?
Let us bring your work on paper back to life!